Shop for all
kinds of Kabuki Masks
Online
Subscribe to our newsletter and take 10% Off on our Premium Collection
Number #1 brand for Kabuki Masks
WELCOME TO KABUKI MASKS

Get Free and Fast Shipping
We bring you and unparalleled combination of Fast and Free shipping all together at kabuki mask. We give FREE shipping all around the globe with more than 200 countries. Our Shipping is guaranteed faster than any other Japanese mask brand.

Live Support 24/7
We deliver the best products and provide after sales support that you can never get anywhere else. Our support team is always available to help. Contact us anytime, we are 24/7 available for a smooth shopping experience.

Supporting the Culture
We have a huge collection and series of products, all ready to ship for those that love japanese warriors and want to play in theater. We want to make the world a positive place, where can play their role as warriors to end the evil.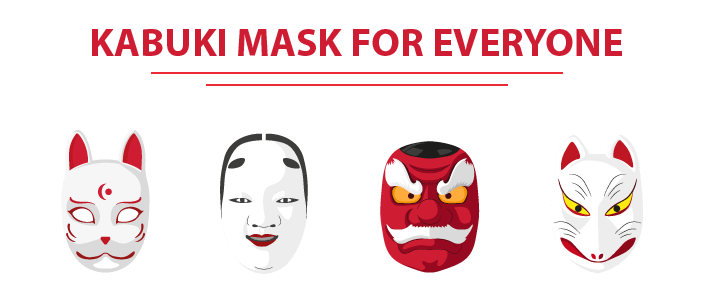 Kabuki Mask Collection for Sale:
Kabuki is a traditional style of Japanese theatre. It is a theatrical style with a very rich history. Originating from the 1600s it's incorporated the social topics of that time and even after many renditions, sanctions from leaders and changes it is still as popular as ever. One of the most popular or characteristic features of kabuki theatre is definitely the masks that are used. The word kabuki means "out of the ordinary" and without the use of these exaggerated masks and makeup theatre wouldn't be the same.
Ever since it's inception it grasped the attention of the people, simply because it was different and exciting. In contrast to the traditional theatre that was popular at that time, kabuki theatre was not limited to folk tales. It incorporated themes from modern-day.
Their beautiful masks, exaggerated facial expressions, different modern stories, and their unique dancing style quickly became popular in all classes of Japanese society. It even managed to influence the west.
Among the hundreds of thousands of kabuki plays, the most famous play is definitely the story of the 40 ronins. They hunted down their enemy and after the death of their lord they had to commit suicide. Stories Like these have always grasped the attention of people from across the world.
Kabuki mask meaning:
In the kabuki style of theater, both makeup and masks are used to express the facial expressions of the character. The color scheme of the masks would represent a certain characteristic of the person. For example, having green lines on the mask would indicate that the person is supernatural or has some sort of supernatural powers.
Red lines would be used to express positive behaviors like a strong devoted motivation to do a task. Black lines, on the other hand, would be used to express negative behaviors like jealousy. We have all such kabuki masks for sale, all made from only the finest materials,
Types of Kabuki Masks we sell:
Kabuki masks are of different types, these days masks from different styles have managed to merge with traditional masks. So modern masks include masks from other styles as well.
Traditionally, Japanese masks were made from clay, wood and other such materials. Among the different types of masks that are embedded in Japanese culture the most famous are definitely the "Noh masks". These masks are recognized by their over the top expressions, horns, and somewhat scary-looking faces. They have been used and portrayed in various movies and are widely popular. These days it's really hard to find a good Noh mask but you don't need to worry about that anymore. We offer some of the best Japanese Noh masks.
Samurai mask with horns, oni style kabuki masks, demon masks, white masks, kitsune masks, blue masks, and even animal masks are used these days.
Our store specializes in the production of all of these masks and has all of these and much more kabuki masks for sale.
We have a massive collection of Kabuki masks:
Some of you may be wondering "how to make a kabuki mask", we have got you covered on that front too. We sell some of the best quality blank masks, these masks fit your face perfectly and can be designed to your liking. You can decorate your masks with our own imagination. You can get the type of mask that you want.
We even provide oni masks and it's female demon hannya masks along with other famous wooden masks for wall decoration. So that you only have to design the facial expressions that you want.
One of the most famous masks are the half fox masks, these are usually used in cosplays and in costumes. We have a bunch of different options for these half masks too and also for half kabuki samurai masks and half bone masks. All of these Japanese masks are for sale at our online shop.
We have, Kabuki masks for both men and women:
Kabuki theatre was originally performed by women but later as the art progressed many men became a part of it too. We have both styles of Japanese masks for sale; available for women and for men. Women kabuki theatre masks are certainly different from men's kabuki masks and require professional craftsmanship to design and produce.
Our online shop specializes in the production of masks and has such professionals at hand that have worked for decades in the industry.
Our Premium quality masks:
Our company focuses on the production of these masks, no matter what the occasion may be or what type of Japanese kabuki masks you are looking for we have got you covered. Our team of experts has spent months designing and perfecting each item.
They have been made with the traditional elements of Japanese culture in mind. Our masks not only look great, feel great but also do an excellent job representing traditional Japanese culture.
So whether you are looking for a mask for your cosplay, Halloween costume or a masquerade party just head on over to our online store.
We have a massive selection of traditional Japanese kabuki masks for sale. Just browse our site for the type of mask you need and order it. It will be with you in no time.